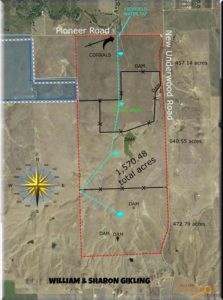 UNDER CONTRACT
– This is some of the very best grazing land in the area besides being absolutely prime for future development. Currently fenced into 4 pastures (one is 212 ac of alfalfa) and has (4) rubber tire tanks providing water from the Viewfield Water District. Additionally, there are (6) recently cleaned and deepened stock dams with one of these being a huge dam located near the center of the property.
Near the north end of the property is a newly-built set of pipe corrals boasting 4 sorting pens with a drift fence into the corrals from the west. The perimeter fences are probably 80% new within the past 4 years. Viewfield water tap costs $120/year. This is some of the most well -located grazing land in the marketplace today, and is further an ideal headquarters location for anyone wishing to have superb access to I-90 and points beyond. Make plans to inspect.
Directions: At I-90 Exit 78 (New Underwood Exit) travel north on New Underwood Road 3 miles. Signs are along west side. Property borders New Underwood Rd. for over 2 miles & the north boundary is Pioneer Road. See maps.
Address

:

New Underwood, SD 57761, USA

Price

:

$2,120,150

Lot Size

:

1,570.48 Acres

Call Today

:

605-484-1353

MLS #

:

140334